INVERY DockLinQ Bluetooth 5.0 Adapter Receiver for Bose Sounddock and 30 pin Music Docking Station
---
DockLinQ Bluetooth 5.0 Music Streaming Adapter
Recommended Uses:
30 pin music docking station. DockLinQ is compatible for Original Bose SoundDock, Bose SoundDock I, SoundDock II, Portable SoundDock, SoundDock 10 and other 30 pin iPod/iPhone Music Docking Stations, please check #5 main picture for compatibility list. Perfect solution to upgrade wireless bluetooth for your old iPod iPhone docking station.
Built-in 3.5mm Aux Jack for connection, DockLinQ bluetooth adapter comes with a 3.5mm audio cable, allowing the DockLinQ will also work with home audio systems or boomboxes that have a 3.5mm auxiliary jack.

Doesn't work / not recommended for:
Not compatible for all docks. Please check #6 picture for UN-COMPATIBILITY list. Check it before order to avoid mistakes.

Not work for all car's dock. Doesn't work with Audi, VW, Mercedes, BMW, Infiniti, Nissan etc. It is subject to car's compatibility. Don't buy DockLinQ for car docks. We propose buy our Airdual series bluetooth adapter for car docks.
What's in the box?
DockLinQ bluetooth adapter
3.5mm audio cable
User guide
DockLinQ Bluetooth Music Streaming Adapter
Upgrade bluetooth for your Bose Sounddock and other 30 pin iPod/iPhone Music Docking Station. Using DockLinQ to add bluetooth for your Original Bose SoundDock, Bose SoundDock I, SoundDock II, Portable SoundDock, SoundDock 10 and other 30 pin Music Docking Stations like JBL, Philips, Sony, Yamaha, iHome, Beatbox etc.
Supports any version of iOS and Android devices, including iPhone, iPad, Samsung, LG, HTC, Nokia, Google Pixel etc.
Powered by Bluetooth 5.0 Chipset, Outputing High Quality Sound, Extra Long Bluetooth Wireless Range.
DockLinQ supports Multipoint Technology. You can connect two mobile devices simultaneously.
Automatic Voltage Detect. Work with 5V and 12V power sources. No matter old or newer iPod docks, DockLinQ are compatible.
Elegant and Simplism, Better Sturdy 30 pin Plug. Aluminium shell design makes nice tactile. IMPORTANTLY our aluminium shell is much more robust while many buyers complained other brand's 30 pin plug is loosen and plastic case is easy to be broken if falling on ground.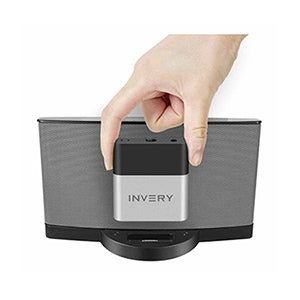 Upgrade your 30 pin Music Docking Station with Bluetooth Audio Streaming
Instant installation, easy setup! Just plug, pair and play! No more action, seamlessly enjoy music streaming!
Plug - Just plug DockLinQ on your 30 pin dock,DockLinQ is powered by 30 pin dock.

Pair - Open your phone bluetooth setting and search our bluetooth ID DockLinQ. Just pair it.

Play - Enjoy bluetooth music streaming. Audio source is input by 30 pin dock.
NOTE:Please pay attention when using
When the phone is connected to the Bluetooth DockLinQ , please turn down the volume of the media. Avoid the inconvenience caused by the high sound played by the stereo.


When the mobile phone is connected to Bluetooth to play music, there is no sound or the sound is too low, which may be caused by poor speaker contact. Please try to re-plug and adjust the position of DockLinQ, so that DockLinQ and the speaker are in good contact.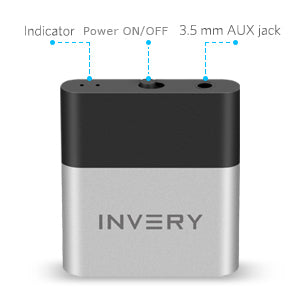 DockLinQ provides two options to plug into your home or car stereo systems.
30 pin Connector – Plugs into the 30 pin connector.
3.5mm Auxiliary Jack. Works with home audio system that has 3.5 mm jack.
DockLinQ powered by 30 pin iPod connector 
Power DockLinQ directly by plug it on the 30 pin connector of your docking station or 30 pin charging cable.

DockLinQ has 2 power supply channels, whether your old or new iPod docks provide 5V or 12V power supply, DockLinQ can be compatible.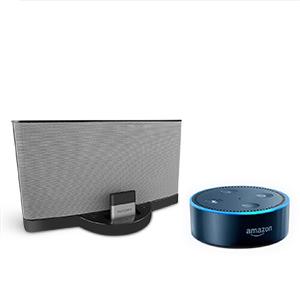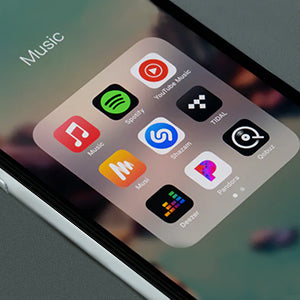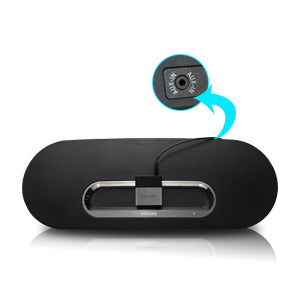 DockLinQ Other usage scenarios 
Works with Voice Commands: Pair our bluetooth receiver with your Echo Dot via Bluetooth on the Alexa app, it is easy to control your music with voice commands by Echo Dot.

Multiple Devices and Audio Apps Supported: Supports any version of iOS and Andriod devices, including iPhone, iPad, Samsung, LG, HTC, Nokia, Google Pixel etc. Stream music or audio from any of your favorite apps including Spotify, Youtube, Pandora, Deezer, Amazon music, Apple music, Audible etc.
Works with home audio systems with 3.5mm AUX Jack: Built-in 3.5mm Aux Jack for connection, DockLinQ bluetooth adapter comes with a 3.5mm audio cable, allowing the DockLinQ will also work with home audio systems or boomboxes that have a 3.5mm auxiliary jack.
Compatibility List: (DockLinQ is compatible with below models, please check it before order)
Alesis MultiMix 8 Altec Lansing iM7, iM9, iM11, iM600, iMT325, iMT620, iMT702, iMT800, M202, M402, T612
Arcam rCube Portable Speaker Apple iPod Hi-Fi Beats by Dr Dre Beat by Dr. Dre, Beatbox
Bose Original SoundDock for iPod, SoundDock Portable, SoundDock I, SoundDock II, SoundDock 10, Wave System III and II with Connect Kit for iPod, Boston Accoustics Duo-i Plus Brookstone BoomBox for iPod 623405, BoomBucket
Cambridge Soundworks 745i, 765i, 8046 Creative Labs D160 Crosley 1701A iJuke Cyber Acoustics CA461
DLO HomeDock for iPod, HomeDock Deluxe
Fatman iTube Dock Fluance FiSDK500 Focal xs 2.1
Geneva Sound System Model L Griffin Technology Amplifi 2.1 model 1200-ITSPKR, Evolve
Harmon Kardon Go + Play, Go + Play II
iCraig CHT907, CHT910, CHT917, CMB3209 Alarm Clock iDeck Integrated Car Cassette for iPod
iHome iA9, iA 5, iA17, iA63, iA100, iD37, iD7, iD8, iD91, iD99, iH16U, iH4, iH5, iH6, iH8, iH9, iH15, iH19 (2Go), iH27, iP1, iP2, iP4, iP9, iP11, iP16, iP21, iP23, iP37, iP46, iP87, iP90, iP97
iLive IB289, IBPD882B CD/DVD/iPhone Boombox, IHS3, ISP389, IS608, ITP100B
iLuv iMM747, i9200 JWIN
ION Block Rocker iPort IW-20 iTec T2406 iStereo
JBL MR 17 Marine Stereo, Onstage 2, On Stage 3, On Stage 4, On Stage 200iD, Onstage Micro, On Beat, On Time 200P, On Time Micro, Radial Micro 700
JVC RD-N1, Boomblaster RV-NB70B, Kaboom RV-B50
Kicker iK5
Klipsch iGroove iPod Dock models 1000330 and 1001092, iGroove HG 1006819, iGroove SXT 1007267, iGroove SXT 1008329, iGroove SXT 1009098 Logic3 JiveBox
Logitech MM50, Audio Station S-0217A, S135i, S315i, S715i, Pure Fi Anywhere 2, Pure Fi Anywhere S-0001
Marantz IS201 dock Memorex MA2213, MA9010MS, MI3005 iMove, MiHTS302, M2290 Merkury Innovations MI-CR5010
Monster Tron IPD-DK EFS Onkyo DS-A3, DS-A4
Panasonic SA-BT100
Philips AJ7030, AJ7035, AJ7040D, DC320/37, DC390/37, DCB291, DCB293, DCB352, DCD132, DCM2020, DCM230/37, DS1100, DS1110, DS1200, DS3000, DS3010/37, DS3510, DS7550, DS7700
Polk Audio HD Radio I-Sonic, Midock Studio, MiDock 10 Pyle Home PiDock 1
Samson Expedition XP40i
Samsung HW-C700 with iPod dock Sharper Image SA255, iTower SM252 Skullcandy Skull Candy pipe, Vandal S7LACZ-04 Soundfreaq SFQ-01 Speakal iPig
Sony AIR-SW10Ti, CPF-iP001P, ICF-1iP, ICF-7iP, ICF-C05iP, ICF-C1iPMK2, ICF-CS10iP, RDH-GTK1i, RDP-M15iP, RDP-M5iP, RDP-V20iP, RDP-X30iP, RDP-XF100iP, RM-AMU009, SRS-GU10iP, ZS-S2iP, ZS-S4iP, Marine Stereo CDX-H905ip
TEAC CD-X10i, SR-L250iB, SR-LX5i Tivoli Audio iSongBook, iYiYi Vers 2X
Yamaha MCR-230, PDX-11, PDX-30, PDX-31, PDX-60, E810, TSX-70, TSX-130
Contact us
support@invery.com
Shipping Policy
1. We usually deal with your order within 24 hours.
2. We provide FREE shipping for all clients. 
Customer Reviews
07/09/2023
BonnieBarbara T.

United States
I have had trouble with the volume
The device seems fine but when I used it with my iPhone to transmit to my Bose speaker I couldn't get the volume to be more than a quiet sound. I will try to play with it but I hope that I can get the volume to be greater. Bonnie
10/07/2022
Michael M.

United States
Order No. 1929 Airdual Bluetooth Adapter
The product was never delivered so the experience thus far has not been good.
12/22/2021
Mark H.

United Kingdom
So far works fairly well
Plugged straight into my CD radio player that has an old fashioned iPad dock. Worked out of the box and now I have a streaming CD Radio player for relatively little outlay. There seems to be a volume drop over Bluetooth that does not exist when directly plugging in the Apple device, even when you turn the volume to its highest on your Apple device, hence 4 star rating.