INVERY Airdual-300B Bluetooth Adapter for 2012 or earlier BMW Mini Cooper iPod/iPhone Cable (Works with BMW CCC/CIC, but NOT with NBT)
---
Airdual-300B Bluetooth Music Streaming AdapterRecommended Uses:
Compatible for 2008 year-2012 year BMW CIC / CCC system (USB+AUX connector)
Compatible for Mini Cooper (USB+AUX connector)
Compatible for Porsche USB+AUX iPod Music Interface
BMW x3 2011, x3 2013, x3 xdrive 2013-2014, m3 2008, m6 2014, x5 xdrive 2007, x5 xdrive 2010, x6 xdrive 2009, x6 2011, 335i 2007-2008, 335is 2011, 335xi 2008, 135i 2008, 650i 2010, 550i 2011, 750li xdrive 2010, E90 2008, E60 2009, 535i 2008, 750li 2011, 328xi 2011
Mini cooper R61 2016 Paceman/R55 2009 Clubman S, R61 Paceman 2014/R60 Countryman/R60 Countryman 2014
Compatibility Reminders: (MUST read it before order to avoid mistakes)
Airdual-300B is NOT compatible for 2013-2020 year BMW NBT system.
Airdual-300B is NOT compatible for Audi Navigation Plus with AMI music interface.USB only type iPod connector.
Product Features Reminders:
iPhone is NOT supported to display Spotify/Pandora playlist, it is only supported to display iPhone Apple Music playlist(iTunes playlist). iPhone and Android Spotify/Pandora is supported to display current track information.(If you are Audi owner, you need to find your car option [setup] and select option [Display Track Info] to enable track info display feature.
This adapter only supports Bluetooth music streaming, does not support phone calls, but If your car has Bluetooth phone, Car bluetooth hands free phone and Airdual bluetooth audio streaming can work simultaneously. If your car has Bluetooth phone, make sure your phone is connected to car before pairing Airdual.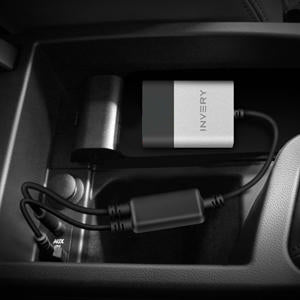 Instant installation, easy setup! Just plug, pair and play! No more action, seamlessly enjoy music streaming!
Plug-Just plug Airdual with your AMI connector or MDI connector.
Pair-Open your phone bluetooth setting and search Airdual bluetooth ID Airdual, just pair it.
Play-The music will be automatically played each time when you get in your car. Enjoy music streaming seamlessly.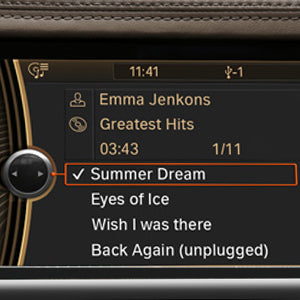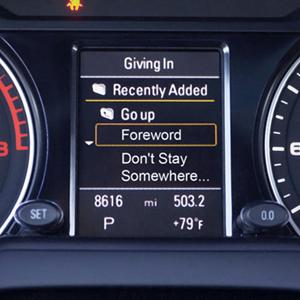 1. Qualcomm CSR8675 Bluetooth 5.0 chipset
Powered by Qualcomm CSR8675 chipset, output crystal clear quality sound.. Support 24Bit audio processing and 120MHz DSP, support APTX, APTX-LL, APTX-HD high-quality transmission format.
2. Apple Music playlist display on car screen(iTunes)
Apple Music playlist(iTunes) is supported to display on car screen. Play, Pause, Browse, Skip and control iPhone Apple Music playlist using Original Entertainment System.
3. Apple Music playlist display on dashboard(iTunes)
Apple Music playlist(iTunes) is supported to display on car dashboard. It is available to use original steering wheel buttons to control Apple Music playlist.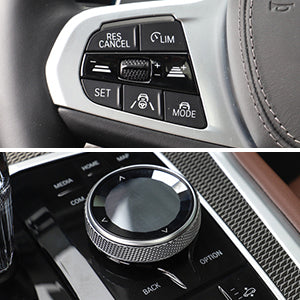 1. Steering wheel and stereo control 
 Using original steering wheel buttons and head unit buttons control to play, browse, skip and control Apple Music playlist.
2. Auto-connect feature
After the first use, the Airdual bluetooth will automatically reconnect to your mobile device after starting up the engine.
3. Multiple Audio Apps Supported
Stream music or audio from any of your favorite apps including Spotify, Youtube, Pandora, Deezer, Amazon music, Apple music, Audible etc. 
Supports any version of iOS and Andriod devices, including iPhone, iPad, Samsung, LG, HTC, Nokia, Google Pixel etc.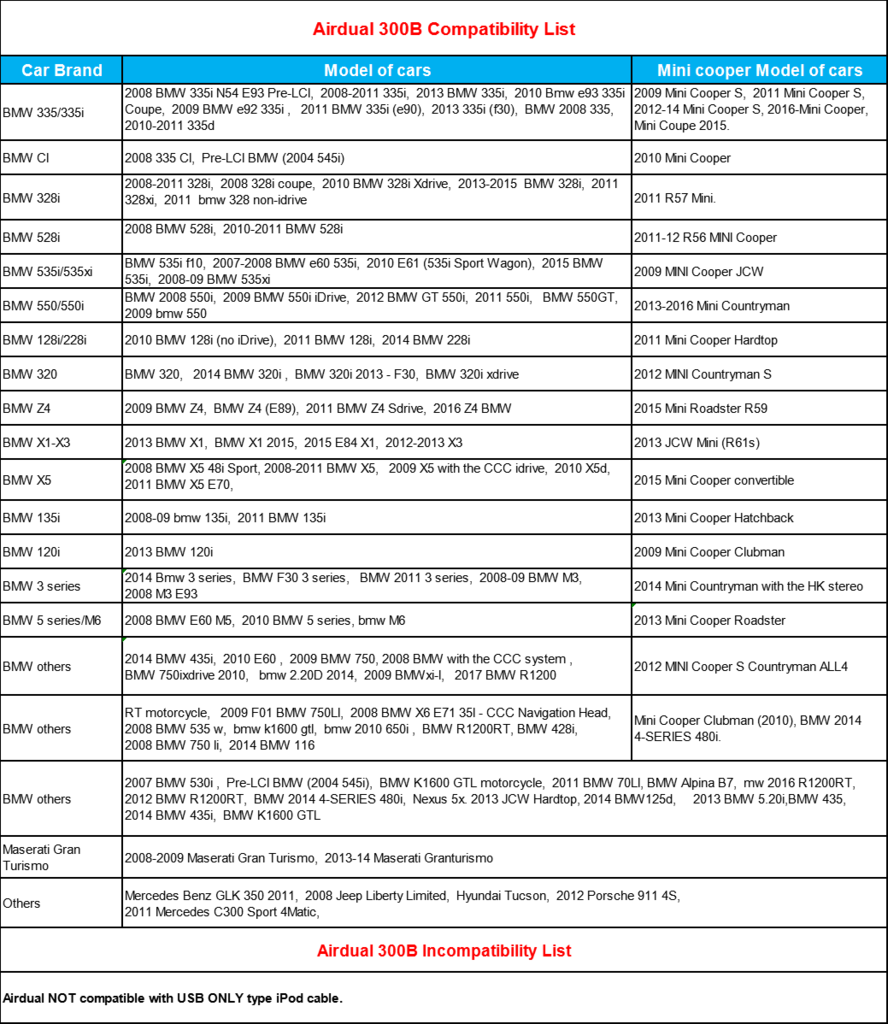 Contact us
support@invery.com

Shipping Policy
1. We usually deal with your order within 24 hours.
2. We provide FREE shipping for all clients. 
Customer Reviews
11/03/2023
Andrius P.

Ireland
05/15/2022
Juan V.

South Africa
Waiting to long. No update
Waiting a long time. No update . Not that great as i thougt it would been.
11/02/2021
Simphiwe K.

South Africa
Fantastic!
It works really well and the sound quality is great.